Welcome to the January edition of the Asian Golf Travel Nation. It's the first month of 2010 and I hope this finds you with great golf plans arranged for the winter months with friends and family - and hopefully coming on a golf tour with us here in Asia! This month we're gearing up for the busiest time of the year in golf travel and are ready to host golfers from around the world on life's best golf experiences. I hope to see you here soon!
January's Asian Golf Nation is sponsored by


Get more out of golf practice™ with TrueStrike Golf Mats.
Thailand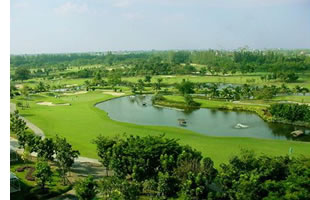 Bangkok: New York comes to Bangkok, well sort of, at least in name.
Riverdale Country Club is Bangkok's newest golf course. Located on land adjacent to the established Bangkok Golf Club, Riverdale is the latest creation of Jonathan Morrow: the fame who also gave us Phuket's 2 newest courses: Phunaka in 2008 and Red Mountain in 2007. Jon has created Bangkok's newest premium golf course with spectacular 15 meter elevation changes (a feat in itself considering Bangkok's flat terrain), holes laid out like so they look like they belong on this land, natural streams and waste areas with loads of local fauna and wildlife, well you get the point: another great golf course!
I was out last month and even got to play a few holes. Grassing is complete and the course is set to open in the next 3-4 months. Stay tuned for the first course review right here!
Bangkok: Do you know one of only 2 Gary Player designed courses in Thailand is open again? The old World Trade Golf Club is now the Lotus Valley Golf Resort and besides sporting all new grasses and clubhouse the original layout remains one of the best tracks on the east side of Bangkok. Prices are quite reasonable (around $50 USD including cart and caddie) as the golf course goes through its initial opening. If anyone is interested in playing, let me know and I will arrange it for you.

Vietnam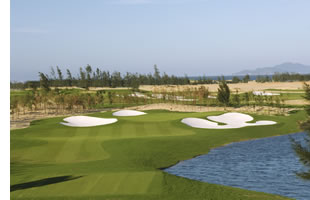 Danang: The Greg Norman designed Danang Golf Club; right next door to The Montgomerie Links is slated to open March 28 which should get the attention of golfers worldwide. With 2 Championship courses by renowned modern day architects side by side, Danang is poised to become Vietnam's newest major golf destination after Saigon and Hanoi.
Saigon: Twin Doves, a Peter Rousseau design near Song Be in Saigon and owned by the same group that did Van Tri in Hanoi, opened nine holes recently. I don't know when all 18 will be ready but when they are the course is sure to be one of the countries best owning to the design and management pedigree.
Dalat: Royale City (near Dalat airport) was scheduled to open in the first quarter of 2010 is officially delay. I have no idea what's happening but will report on things as soon as I find out.
Meanwhile, Dalat Palace Golf Club just won Vietnam Golf magazine's 'Best Course in Vietnam' for the second year in a row. For those of you that prefer cooler climates we are running South Vietnam golf tours including 2 rounds at this excellent course. Let me know if you want to find out more about this tour or just want to play a round in Dalat at a special price.
For those of you who have pans to golf in Asia this winter, I will see you soon. Others who want to travel here but have not made your plans, it's not too late. South East Asia remains the best value premium golf destination in the world and we can build you a package to suit any budget and preferred style of travel.
Remember if you want to get regular updates about golf in Indochina, then sign-up for uninterrupted email delivery of this newsletter. In addition, all persons signing up will automatically receive the latest "Thailand Golf Insider Tips" special report.
Until the next newsletter, happy golfing!
Mark Siegel
Managing Director of Golfasian