Welcome to the July 2009 edition of the "Asian Golf Travel Nation", the source for news breaking information about Asian Golf. In addition, unique golf playing tips for Indochina's tropical environment, announcements of golf travel promotions, and our latest subscription offer are all integral parts of today's newsletter.
I have some great news for you. Low season in Asia just got even better! Can you believe green fees at all the golf course in Hua Hin will be $23 US Dollars throughout the months of August and September? How about a week of tournament Phuket golf and partying, all in golf, hotel, transfers, BBQ's, drinks, and entertainment, for less than $700 US? Would you like to stay in Bangkok for FREE?
Anyone interested? Drop me an email and I will send you the details. If these are not steals, then I do not know what is!

With that, I invite you to read on and hear what's new in golf around the region.

Thailand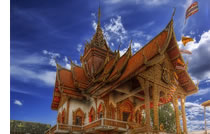 What another "color" course? First there was Blue Canyon, then Black and Red Mountain. Now, there is Golden Canyon near Chiang Mai. The course was originally started as a project aimed at Korean golfers. However, the Thai partner alone is finishing the construction. Nine holes are already open and the last of the 18 holes will opened later in the year. I will report on the course soon.
Can you believe I shot a 77 at the new Pleasant Valley Golf Club located almost half way between Bangkok and Pattaya? Opened earlier this year to very little fanfare, this course is destined to become one of the top layouts in the area. If you are looking for a round when travelling between the Bangkok airport and Pattaya, this might be just the course for you.
Vietnam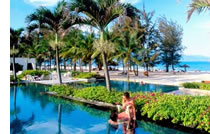 Just as I mentioned about Danang's first 18 hole golf course nearing completion, a second Danang course has sprung up! The Greg Norman designed Dragon Dunes, is almost finished grassing three show holes on the ocean. A year end completion date has been set and I can't wait to see how things turn out. With non-stops flights to/from Bangkok, and two premium courses, Danang will make a great add-on destination for both Vietnam and Cambodia bound golf holidaymakers. Who would have believed that this central coastal region of Vietnam that was essentially the staging grounds for American troops during the Vietnam War would become the country's golfing oasis!
Malaysia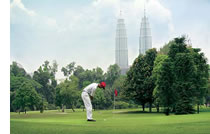 Jim and I just got back from Kuala Lumpur and what a trip it was. The Trent Jones designed Mines Golf Resort was probably the best course I have played in Asia with rolling hills and such a wide variety of shots that I had to use every club in my bag not once but twice. (Don't ask me my score!) It is good that we can get visitors on this otherwise exclusive club because together with Saujana Country Club these 2 championship layouts make for some of the best golf for holidaymakers in any Asian city. We will be starting golf tours to Malaysia on a limited basis this fall and if you are interceded be sure to drop me an email and I will include you in one of the trips.

Remember if you want to get regular updates about golf in Thailand, Vietnam, and Cambodia, then sign-up for uninterrupted email delivery of this newsletter. In addition, all persons signing up will automatically receive the latest "Thailand Golf Insider Tips" special report.
Until the next newsletter, start practicing and I hope to see YOU in the region this summer!
Mark Siegel
Managing Director