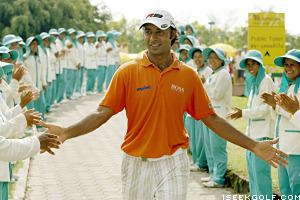 Welcome to the March 2009 edition of the "Asian Golf Travel Nation", the source for news breaking information about Thailand, Vietnam, and Cambodia Golf. In addition, unique golf playing tips for Indochina's tropical environment, announcements of golf travel promotions, and our latest subscription offer are all integral parts of today's newsletter.
The year is already moving fast as we already change seasons from winter to spring. For many of our readers, this means its time to dust off the clubs and start practicing.  In Asia, it is a time for low season, which means low prices.  Golfers are encouraged to take advantage of special discounts where one can golf at rates as much as 50% less than in previous months, and this includes both standard and premium courses throughout the region. Inquire here to find out more details!

Last month saw some newsworthy happenings in the Indochina golf scene.
First of all, Long Thanh Golf Club and Residential Estates has accepted an invitation to join the Ho Chi Minh Golf Trail, adding luster to what should be an eventful year on Asia's most exotic, talked-about golfing itinerary. Next up, upon completion of its 18 holes this summer, the much-heralded Montgomerie Links Vietnam is slated to join the Trail. Since its launch in July 2007, the Hi Chi Minh Golf Trail has succeeded in generating news coverage in more than 200 different publications worldwide, including the New York Times, Wall Street Journal and a cover feature in the February 2009 edition of GOLF magazine. Golfasian, the sole appointed trail tour operator continues to welcome golfers' from around the world to Vietnam and we would be delighted to welcome you.
Two weeks ago I played in the pro-am event preceding the Singha Thailand Open at the Laguna Phuket Golf Club and where Indian star Jyoti Randhawa cruised to a comfortable two-stroke victory for his eighth Asian Tour victory. Course conditions at Laguna were as good as I have ever seen, especially the greens which rolled true and without even a hint of grain. The good news for all golfers is that the previously scheduled Laguna golf course closing and renovation work has been indefinitely postponed. Anyone heading to Phuket can now include a stop at the Laguna golf course as it will be available for play all summer and through all of next season.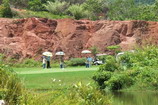 The other courses that I played whilst in Phuket included Loch Palm, Phuket CC, and Blue Canyon. Loch Palm is always a fun round as I love the layout, especially the new holes designed by John Morrow on the back nine. However, I found the greens to be very inconstant and was surprised to see the greens rolling only at 8 on the stimpmeter in the peak of the dry season. Phuket CC was in better shape with good playing conditions from tee-to-green. Blue Canyon was the highlight and in spite of my worst score still remains the king of Phuket golf courses. With a slope of 142 Blue Canyon is rated as the most difficult golf course in Thailand and it deserves it. Try hitting out of the Zoysia grass rough or attempting a par at the 600 yard 11th and you will see what I mean!
Jim just returned as well from a week long golf trip to Chiang Mai and Chiang Rai. He was so impressed by the quality and advancement of the North Thailand golf scenes that he is now trying to convince me to let him run our Chiang Mai golf operations. (ed. Nice try, maybe next season Jim!) 
Northern Thailand offers a very different golf holiday experience than other areas of Thailand. Whereas the central and southern beaches areas are filled with western tourists and Bangkok is a sprawling international megalopolis, northern Thailand retains more of a traditional Thai charm. The mountains, rivers and rolling terrain provide scenic beauty and gave course designers a good canvas to work with. And on top of all that Northern Thailand offers great value as golf, hotels, dining and just about everything is less expensive than other Thailand and Vietnam golf destinations. This summer why not take advantage of the great golf package deals that we have on offer? For more information contact Golfasian at [email protected].

Remember if you want to get regular updates about golf in Thailand, Vietnam, and Cambodia, then sign-up for uninterrupted email delivery of this newsletter. In addition, all persons signing up will automatically receive the latest "Thailand Golf Insider Tips" special report.
Until the next newsletter, start practicing and I hope to see YOU in the region this spring!
Mark Siegel
Managing Director