Welcome to the November edition of the Asian Golf Travel Nation. As in the past, this newsletter contains original and news breaking stories on the state of golf in Asia as well as provides useful golf course information, unique golf playing tips for Asia's tropical environment, and special golf travel promotions.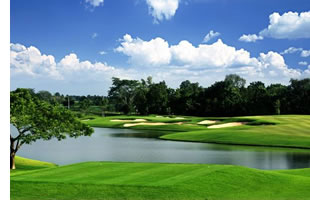 Khon Kaen: Where is "Khon Kaen" and what does this have to do with golf?

Besides being the home to the best caddies in Thailand, Khon Kaen now boasts its own Asian PGA tour event. Read on...

The King's Cup Golf Tournament, a new Asian Tour event which was scheduled to be played at Santiburi Chiang Rai the first week of December, has now been moved to the new Singha Park Golf Club in Khon Kaen. Thongchai Jaidee and all the top Thai players will be there vying for the inaugural King's Cup title (played the week of the King's birthday). I haven't heard any first hand reports from golfers there, but if the Singha group is moving the King's Cup from their Chiang Rai course which is always in good condition to their new Khon Kaen course, then the Singha Park Golf Club must be in great shape, even though it just opened.

While in Khon Kaen why not try out the other 2 nearby courses, (Yes there is even more golf!!)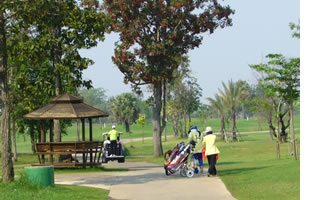 Dancoon Golf Club, out by the Khon Kaen airport, is one of the nicest maintained courses in the area. There is also the Ubonrat Dam course 45 minutes drive away from Khon Kaen. This 18 hole complex boasts 9 dollar green fees, making it my choice for the best sub-10 dollar golf course in Thailand. So inexpensive I don't know how they stay in business. The Khon Kaen Army course has been expanded to 18 holes as well. Now there are four 18 hole courses to enjoy.
Lovely town it is. A new Central Department Store is opening next year also and the airport has multiple convenient daily non-stops to Bangkok. Khon Kaen really is Thailand's best up-and-coming golf hot spots. If you are interested and want to be one of the first to golf in Khon Kaen before it's discovered by the masses, and I will send you more details.


Cambodia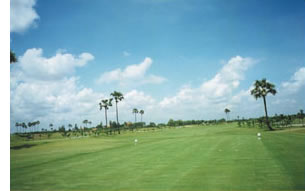 Phnom Penh: Is it a coincidence that Phnom Penh rhymes with Khon Kaen?
Cambodia's capital is soon to have it's very own Jack Nicklaus designed golf course. Taking shape near the heart of Phnom Penh, Nicklaus Design is hard at work setting up the country's first American designed golf course complete with proper earth works, imported grasses, and challenges on every hole to suit even the toughest of golfers. Construction is completed and the course opening is planned in time for this year's high season. Why not play all 3 Phnom Penh courses (Royal Cambodia and Cambodia G&CC) or combine a with one of the other major golf destinations in the region?
Siem Reap: The Asian Tour and Cambodian Open returns to the in Siem Reap on November 19-22. If anyone is interested in playing in or watching this tournament, and I will see what I can do to make it happen for you.


Vietnam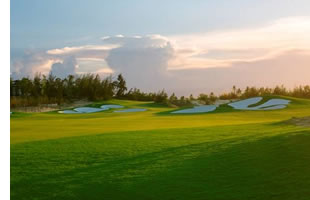 Danang: Yes, the site of last month's unfortunate typhoon, the , now bridges the gap between Vietnam's north and south portions of the . Golf tourism in Vietnam's Central Coast tourism is just getting underway. While other courses are planned for the region, the Central Coast's first golf course which completed all 18 holes in August is destined to become one of Vietnam's best offerings. If anyone has played the course or knows when the grand opening is planned, drop me a line, as I would love to know more.


Now for a regional weather report: This year's rainy season appears to be less severe than those seen in the past, especially in Hua Hin and Phuket. Daily golfing is ongoing with the best conditions seen in Hua Hin. Also, I expect golf course maintenance will go along way to insuring near perfect playing conditions during the drier months ahead.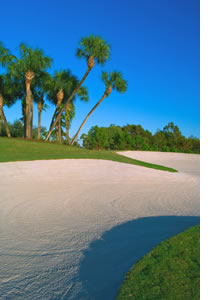 Contrary to what is being reported in other regions, the Asian golf travel sector continues to expand as the growing global buzz about the value-for-money and service quality along with the newly opened golf courses continues to fuel , especially in Vietnam and Thailand. While this is good for business, it almost guarantees busy conditions during the coming best months from November to March.
Already I am seeing some of the better resorts around Thailand and Vietnam starting to report limited availability. We still have some room allocations for our clients, but I expect the better hotels to be full for the season in the next month or two. Therefore, I urge anyone considering a for the 2009-2010 winter months to make your plans early. This way you will be assured of good arrangements and if something comes up later on, your plans can always be adjusted accordingly.


Remember if you want to get regular updates about golf in Indochina, then for uninterrupted email delivery of this newsletter. In addition, all persons signing up will automatically receive the latest "" special report.

Until the next newsletter, happy golfing!
Mark Siegel
Managing Director of Golfasian