Welcome to the September 2009 edition of the "Asian Golf Travel Nation", the source for news breaking information about Asian Golf. In addition, unique golf playing tips for Indochina's tropical environment, announcements of golf travel promotions, and our latest subscription offer are all integral parts of today's newsletter.
Most of the world's summer holidays are over and it is now back-to-school time for the kids. In Asia, we are in the midst of the "rainy season" with daily afternoon showers being the norm across the region. The golf courses are wet for sure, but all remain open for play, still have low season prices in effect, and due to the lack of visitors quick sub 4 hour rounds are common. Really hard to beat in fact!!
Nevertheless, with fewer visitors, this is a good time for us to catch up on things, update our tours for the high season and inspect all of the area golf courses and hotels.
I was in Phuket last month and found Loch Palm, Red Mountain, and Phuket Country Club to be in very good condition. On the other hand, Mission Hills, while better than the past, is still in need of an experienced superintendent, especially to get the greens in shape for the high season. Up the road at Blue Canyon, a few friends mentioned the course was in superb condition, so I was really looking forward to playing there.
However, I found the courses to be just so-so with the greens being on the slow side at around 8 on the stimpmeter. I guess it just goes to show you that conditions can change from day-to-day. Just another reason to have a professional golf tour company who can assess the course conditions in real time arrange your trip rather than doing things yourself and risk running into coring or some other course maintenance.
With that, I invite you to read on and hear what's new in golf around the region.
Thailand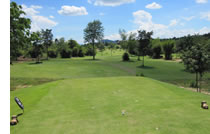 Chiang Mai: Jim is up north again and played the new Gold Mountain golf course. The first nine at Gold Mountain seems to be coming along nicely if not for a few trees left in the fairway (see photo at right). The back nine will require around 6 months for the grass to fully grow in at which time we will start including this new course into our Chiang Mai golf packages.
Bangkok: Green replacement is all but finished at Suwan Golf & Country Club. 15 of the 18 greens are back in play and the remaining 3 greens will be put back in service in the next 1-2 weeks. Once complete, we will give the course an overall inspection and if as expected plan is to start sending golfers there from November.
Phuket: The new Phunaka Golf Club in Chalong is open for play, and what a joy it is. At only 750 baht a round and a par 31, with 5 par 3's and 1 par 5, it sounds as if it would be a simple pitch-and-putt, right? Well nothing could be further from the truth. I bet any golfer that the Phunaka's none holes are as hard as any nine on the island to par. Narrow fairways lined by large areas of native grasses are the norm. Well bunkered sloping greens with tight pin positions force one to make perfect approach shots into every hole to have any chance for making par. Give this one a try, in fact go around twice and make it 18, you will be very satisfied at what has been created at Phunaka Golf Club. (Great job Jon, I can't wait to play Rangsit!!!!)
Vietnam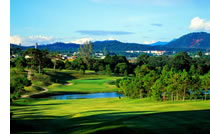 Dalat: Dalat is a beautiful town high in the mountains north of Saigon. The French settled the area long ago as a cool weekend retreat from the hot humid Saigon city. Right now, the only reason I can think of not to go to Dalat for golf is that there is only the Dalat Palace Golf Club in the area. Well not for long. A Peter Rousseau design a few miles from the Dalat airport, named Royal City Golf Club is coming up and nine holes are scheduled to open by end of year. Eventually, there will be 36 holes on this amazing piece of property which feels more like Lake Tahoe than Vietnam. Stay tuned!
Malaysia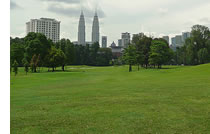 Kuala Lumpur, Langkawi, & beyond: Looking for a new golf destination this year? Why not check out the 2008 award-winning best up-and-coming golf destination as named by the International Golf Travel Writers? Our new web site, www.malaysiagolfholiday.com is almost finished and we are already booking golf tours to Malaysia. Take a look at the site and if you are interested be sure to drop me an email. I will be glad to discuss the various options and propose something for you.
Remember if you want to get regular updates about golf in Indochina, then sign-up for uninterrupted email delivery of this newsletter. In addition, all persons signing up will automatically receive the latest "Thailand Golf Insider Tips" special report.
Also, GOLFASIAN have secured special deals with over 100 golf courses and 600 hotels in Thailand, Vietnam, and Cambodia to offer the very best promotions for the rest of 2009 and 2010. Please contact us for details and your request at [email protected]

Until the next newsletter, happy golfing!
Mark Siegel
Managing Director